POINT
Get your ideal body!
6 points of DROP ARAHA
1.

All for Women's Bodies
Women-Only Gym

Women-only gyms where women can feel safe and secure. We have the best instructors and lessons for women's body building as well as stylish and comfortable facilities for women.

View Features

2.

Unlimited Kickboxing for only 7,500 yen/month!
Choose from 79 classes per week!

Kickboxing is ideal for dieting and body building because it provides both aerobic and anaerobic exercise at the same time.
You can start casually with 4 times a month for 4,500 yen, or choose from 79 classes per week for 7,500 yen per month for unlimited access to the program of your choice.

View Schedule                                                                                                      

3.

Yoga is 1,000 yen/50 minutes per class
Feel free to join any class you like!

You can freely participate in a variety of programs taught by 10 instructors for 1,000 yen per class.
No need to worry about wasting your money because there is no membership fee or ticket system! Only 10 people are allowed in a class, so you can take a lesson with plenty of time to spare.

4.

Open from 9:00 to 22:00.
So you can keep going!

We offer lessons in the morning, afternoon, and evening, which is rare in Japan. Kickboxing classes are 35 minutes long per class, so even busy people can attend and continue at their convenience! For even more effectiveness, we recommend taking two classes in a row.

View Schedule

5.

From beginners to advanced
Enjoy lessons set to the music!

Kickboxing classes are suitable for both beginners and advanced students. Mitt class offers high quality training with an instructor, such as mitts and basic kicking form exercises. You can choose from a variety of classes according to your level and interests.

View Lesson Details

6.

Drink on the spot from 200 yen per cup!
Selected Proteins for Women

Proteins carefully selected by instructors for women are offered for 200 yen or 300 yen per cup. Drinking it during and after training can be expected to have various effects such as beautiful skin and hair, weight loss, and prevention of aging.

View more details about protein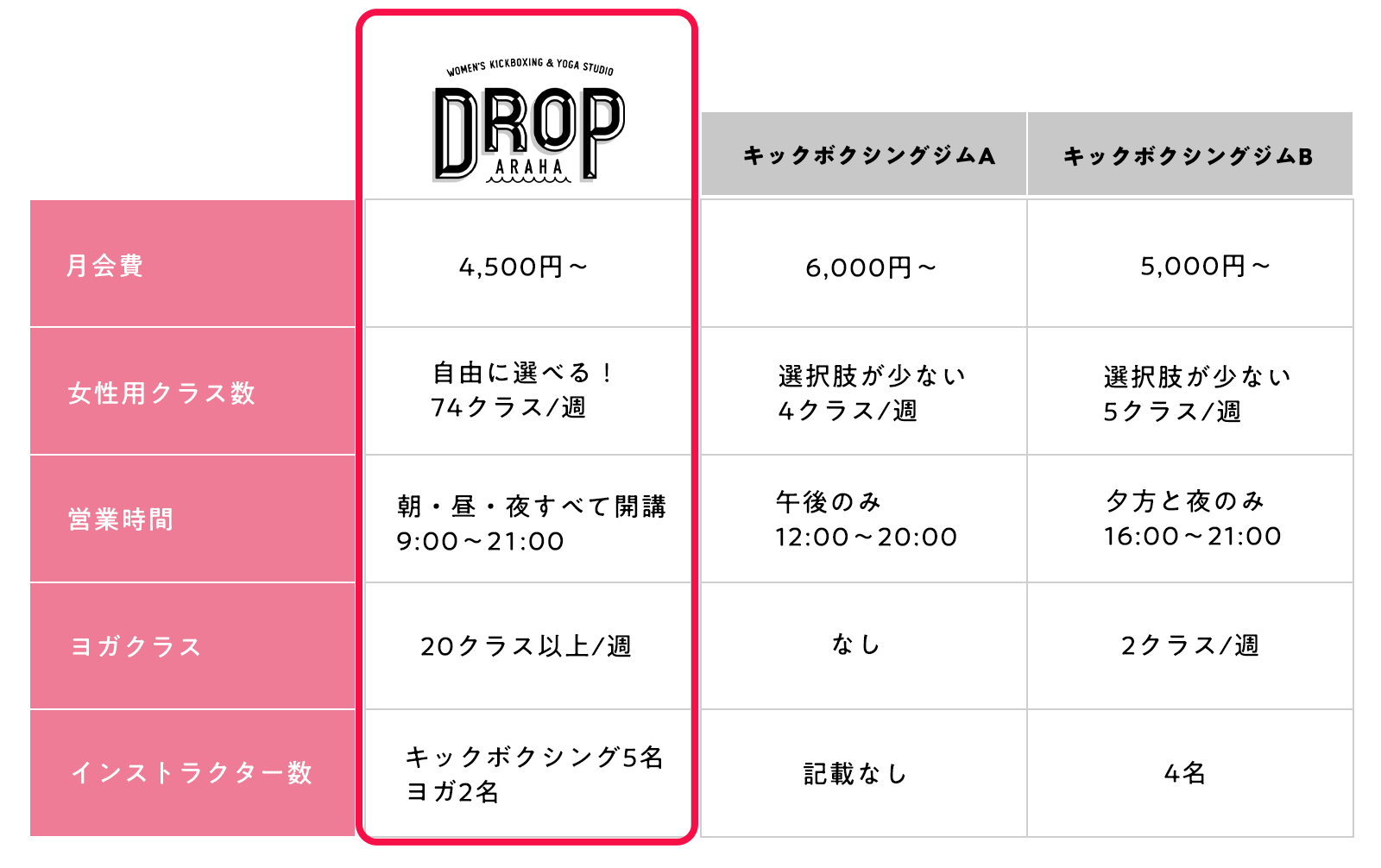 WELCOME


Aerobic and anaerobic exercise at the same time

The key to weight loss and body building is to combine anaerobic exercise (muscle training) and aerobic exercise (jogging, etc.). Have you ever heard that?
Kickboxing is a great sport for weight loss that allows you to do both anaerobic and aerobic exercise at the same time.

Kickboxing's
Aerobic exercise

Punching, kicking, etc.
Movements that require instantaneous force

Kickboxing
Aerobic exercise

Constant stepping
Footwork and endurance

Kickboxing, which requires constant movement, is also high in calorie consumption. Kickboxing consumes 500 kcal for an hour's exercise by a 50kg person is, higher than swimming's 290 kcal.. Since it is a full-body exercise, it is also effective in increasing basic metabolism.
In the lessons, you will be carefully guided from the basic movement form to build up beautiful facial muscles to endurance exercises using shadow boxing and sandbags.
Great effect even for complete beginners!
Boxercise and mitt classes are popular!

ach kickboxing class is 35 minutes long. DROP ARAHA's original program was developed to maximize the effects of a short workout that is easy for busy people to attend!
There are two types of classes to choose from: a fun kickboxing class where you move set to music, and an exhilarating mitt class where the main focus is on mitts with the trainer. Both classes are by reservation only, with a maximum number of students, so you can train in a spacious and comfortable environment.
Kickboxing is an original program that combines muscle training and boxercise to burn fat efficiently! By the end of all 5 songs, you will have achieved a sufficient amount of training. In the Mitt class, one instructor is guaranteed for every four students. You will receive semi-personal, high quality training.
The most popular class is a combination of a kickboxing class and a mitt class! Kickboxing classes and mitt classes are held alternately, so taking two classes in a row is very popular for its weight loss effect. You are free to join just one class or two classes in a row, depending on your convenience.


ealthy weight loss by increasing muscle strength
and metabolic function

In yoga, you do each pose slowly and carefully, breathing deeply. There are a variety of poses, from those that are relaxing to those that are challenging and require muscle strength, but by practicing poses according to each individual's level, the entire body's muscle strength will improve without strain. As muscle strength increases, the metabolic function also improves, making it easier to lose weight.
By practicing correct posture in correct poses, distortions in the body can be corrected, and stiff shoulders and lower back pain can be expected to improve.
Yoga is a full-body workout, which improves the circulation of fluids. This can lead to improvement of sensitivity to cold and swelling.

Whole-body exercise
Metabolic function & muscle strength

Build a body that is easy to lose weight
Improve coldness and swelling

Deep breathing and correct posture
Improve posture

Correction of body distortion
Improvement of stiff shoulders and lower back pain
Because it's a small class,
Recommended for beginners and those who are not good at exercising!

When people think of dieting, they tend to think of hard workouts, muscle training, etc., which is a hurdle for beginners and those who are not good at exercise. Even if you want to join a gym, you often feel intimidated, thinking, "It's not for me..."
On the other hand, yoga offers various levels from gentle movements to hard poses that require muscle strength, so beginners and those who are not good at exercising can start without anxiety.
Even if you are too stiff to stretch, don't worry. No matter what pose you can't do, the instructor will carefully guide you by saying, "If you can't do it, let's do it.
At DROP ARAHA, classes are small, with a maximum of 10 students per class, so the instructor is able to reach all students, and because instruction is given step by step to suit each individual, even those with limited strength or muscle tone will be able to continue without difficulty and gradually become able to perform the poses correctly.
As you continue, your stiff shoulders and back pain will disappear and you will lose weight as your muscle strength increases. Yoga has such effects.


A stylish space you'll want to go back to!

Just a minute walk from Alaha Beach, DROP ARAHA is a gym with bright pink and gray colors that attracts many people. DROP ARAHA is the perfect place to have a stylish monotone interior that will make you feel great during your workout. It will make you feel great during your workout. The hotel-like powder room has a neon sign. The neon sign in the hotel-like powder room adds color to your time before and after training. Of course, the utmost consideration has been given to hygiene management. Cleaning and disinfection are carried out as necessary to maintain a clean environment. Staff members also wear masks and disinfect their hands to ensure a safe and comfortable environment.
Parking for 10 cars is available in front of the gym

There are 10 parking spaces in front of the gym. The parking lot is spacious and easy to enter and exit, making it safe even for those who are not good at driving.
Continuity is very important when dieting and body building, so DROP ARAHA has put a lot of effort into creating a facility that is easy to come to. People can come here quickly, take the best program, and leave feeling refreshed. We are committed to creating a gym and studio where people can come, take the best program, and leave feeling refreshed.
FAQ
Is there an all-you-can-drink protein service?

Yes, we do. For 3,300 yen per month, you can drink as much protein as you want. We recommend the all-you-can-drink protein plan for those who are enrolled in Unlimited Kick Boxing Course.

Can I try a trial class?

Yes, you can try our kickboxing or mitt classes.

What does the body make-up class do?

We use bands and kettlebells to strength train women's hips, arms, and backs, as well as the entire body.

Do you recommend any classes for beginners?

For kickboxing, we recommend the beginner class, which starts with basic stance movements! For yoga, the intensity of each class is indicated with 3 stars, so we recommend the class with 1 star, which has relatively few difficult asanas!

Do you sell training wear?

Yes, we do! We sell training wear, gloves, yoga mats, and protein!

What kind of yoga classes are offered?

Each class (Beauty Detox Yoga, Hawaiian Healing Yoga, etc.) is taught by 5 yoga instructors!

Do you offer a student discount?

Sorry, we do not offer a student discount.

What payment methods are available?

We accept credit card payments only.

Do I have to wear a mask during class?

For now, we ask that you wear a mask until covid-19 settles down.

Is the yoga course hot yoga?

No, it is not hot yoga. There are various types of yoga, including relaxing and active yoga, depending on the yoga instructor!

What are your business hours?

We are open Monday through Saturday from 9:00 to 22:00!

Can I cancel my reservation?

We ask that you do so at least one hour before the lesson starts. At that time, please cancel from the reservation website.

What kind of clothes should I wear?

You can wear clothes that are easy to move around in!

How do I make a reservation?

Basically, reservations are made through our reservation website, but if you have any questions, please feel free to contact us by phone!

Is it OK if I have no experience?

Of course you can! Most of the students have no experience, so don't worry!

Can you provide protein cups (shakers)?

Yes, we can (50 yen/shaker). If you bring your own shaker, there is no charge for the cup (shaker).

Can boys attend the kids' classes?

Yes, kids' classes are open to all regardless of gender.

What does the Beat Kick class do?

This is the hottest kickboxing class in the dark. We move to music in an extraordinary dark environment. The intensity is a little higher than kickboxing.

Do you lend out yoga mats for free?

We lend out yoga mats free of charge during the trial, but once you join, you can either bring your own mat or rent one for 300 yen!

Is there anything I need to bring?

Please bring a drink!

Is it possible to change courses mid-course?

Yes, it is possible! Please inquire when changing plans or courses!

Is there an age limit?

The minimum age is high school student or older.

What age group can attend Kids Class?

4 to 12 years old are eligible. For preschoolers, we offer a program to learn basic physical skills such as gymnastics.

Are men allowed to attend?

No,we are sorry. We are for women only.

Are you closed on holidays?

We are closed on Sundays and holidays.

How many minutes before the lesson can I make a reservation?

You can make a reservation up to 15 minutes before the lesson starts.

Can I nominate an instructor?

No,we are sorry,but you cannot nominate an instructor. Please check the class schedule to see which instructor is in charge of your class.

I have no exercise experience and am not confident in my physical strength.

Our instructors will support you, so please feel free to join us!

Are there only female instructors?

We have male instructors.